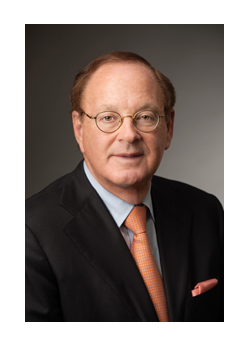 Bruce E. Toll
Principal
Bruce Toll earned a Bachelor of Arts degree from the University of Miami in 1965 and attended graduate school of business at the University of Miami in 1966.
In 1967 Bruce Toll co-founded Toll Brothers, Inc. (NYSE: TOL), which went public on the New York Stock Exchange on July 7, 1986, and is today the nation's leading builder of luxury homes.  Mr. Toll served as President of the Company from 1967 until 1998, at which time he became Vice Chairman.  Toll Brothers has been honored with numerous awards, including Builder of the Year from Professional Builder Magazine, America's Best Builder from the National Association of HomeBuilders and Builder Magazine, and the National Housing Quality Award from the National Association of Homebuilders.  The Company serves move-up, empty-nester, active-adult, and second home buyers and operates in 19 states.  The Company has sold more than almost 100,000 homes since its beginning in 1967.
Mr. Toll co-founded, served on the Board of Directors, and was the largest shareholder of UbiquiTel, Inc., a publicly traded company which provided Sprint PCS digital communication services to mid-size markets in the western and mid-western United States, until it was acquired by Sprint in 2006.   He was also the largest investor and served on the Board of Directors of Fifth Street Capital, a business development corporation founded in 2000.  In 2006 Philadelphia Media Holdings LLC, of which he was Chairman, acquired the Philadelphia Inquirer.  He resigned this position in August of 2009.  Mr. Toll is the owner of BET Investments, Inc. which owns, develops, and manages over six million square feet of office, commercial, and industrial properties from Arizona to New York and over 3,000 apartments.  He is also the owner and operator of four automobile agencies, Reedman-Toll Auto World in Langhorne, Pennsylvania, the largest automobile dealer in the country which sells Chrysler/Dodge/Jeep, Chevrolet, Jaguar, Fiat, Subaru, and Lincoln products; Roberts Auto Mall in Downingtown, Pennsylvania which sells Chevrolet, Honda, and Subaru products; Roberts Chevrolet in Exton, Pennsylvania, and Caitlin Auto World in Jenkintown, Pennsylvania, which sells Chrysler/Dodge/Jeep/Ram products.  He is also the Owner and Chairman of Puresyn Corp., a biotech company located in Malvern, Pennsylvania.  In addition, Mr. Toll is the owner of BET Associates which is a mezzanine lender for various types of businesses and he is the President of Toll Management Company, which owns and manages commercial and apartment properties in the greater Philadelphia area.
Mr. Toll is also the lead investor in many private companies.  As a board member of these companies he helps guide strategic development to insure continued growth of shareholder value.  Some of Mr. Toll's current private equity investments include:  Aquilent, a leading provider of web development and IT services to the federal government; Premier Kids Care, a provider of specialized pharmacy services pursuant to agreements with biotechnology drug manufacturers relating to the treatment of pediatric growth hormone deficiency; and Colonial Management Group, the second largest chain of outpatient substance abuse treatment centers in the U.S.  Colonial uses methadone to help drug-dependent individuals overcome their addiction to heroin, opium and opiate-based prescription medications.  Mr. Toll is also the Chairman of Lehigh Natural Resources, the largest anthracite coal mine in Pennsylvania.  In addition, Mr. Toll is a partner in Sidney Kimmel Entertainment which produces movies.
Mr. Toll served on the Chairman's Advisory Board of the Ben Franklin Technology Center of Southeastern Pennsylvania; he is a Member and the Treasurer of the Board of Trustees of Abington Memorial Hospital; he is a Member of the Executive Board of the Philadelphia Museum of Art; and he also served on the Boards of Beth Sholom Synagogue, the University of Miami, and the Jewish Federation of Palm Beach County.
Mr. Toll is also the Founder and President of the Abington Township Industrial and Commercial Development Authority.  He is a former member of the Young Presidents' Organization and a current member of the World Presidents' Organization and Chief Executives Organization.  He is also a former member of the Board of the Pennsylvania Nursing Home Loan Agency, the Board of Directors of Philmont Country Club, the Board of Directors of the Foundation of the Philadelphia Heart Institute, the Fannie Mae Housing Impact Advisory Council, and the Board of the Homebuilders Association of Bucks/Montgomery Counties.